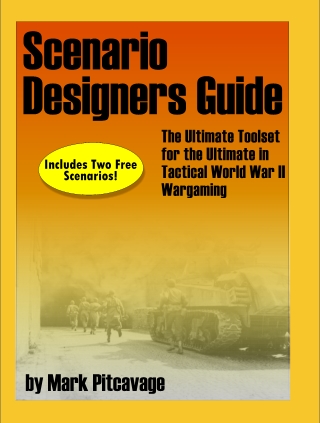 The Scenario Designers Guide is one of the most incredible products ever designed for the ASL player!  This huge 72-page manual provides everything you need to know in order to start designing your own ASL scenarios!  From conception to research to design to playtesting to publishing, the Scenario Designers Guide gives you expert advice and guidance and makes scenario design a snap!
If you have never tried designing scenarios, you have been missing out on one of the most fun aspects of ASL!  The Scenario Designers Guide makes it easy.  It also includes valuable appendices such as Victory Condition and Scenario Special Rule compendiums.
If that weren't enough, the Scenario Designers Guide includes two FREE scenarios.  These fun, challenging tournament-sized scenarios take place on the island of Java at the end of World War II.  One scenario features the last independent offensive by the Imperial Japanese Army!  The other, even more exciting, features British and Japanese troops fighting together on the same side!  These scenarios are MUST-HAVE scenarios for any ASL collection.
The Scenario Designers Guide is one of the most useful, interesting, and helpful ASL products ever.  It continues the Desperation Morale tradition of offering tools and resources for the ASLer.  Don't miss out on your chance to get the Scenario Designers Guide now!!!

The Scenario Designers Guide can be ordered via credit card or Paypal.  It will be shipped directly from the printer to your doorstep.
Price:  $21.33 (not including shipping and handling)
Shipping:  Varies (there are a variety of shipping options for you)
TABLE OF CONTENTS
Author's Preface
Introduction. Three Thousand Keys to Success
Chapter One. Scenario Ideas: Theory and Practice
Chapter Two. Scenario Sources and Research
Chapter Three. Creating the Landscape
Chapter Four. Creating ASL Orders of Battle
Chapter Five. Miscellaneous Scenario Concerns
Chapter Six. Playtesting
Chapter Seven. Okay, So It's Done, Now What
Appendix A. Victory Conditions
Appendix B. SSR Compendium
Appendix C. Scenario Design Example: The Java Scenarios
Scenario Java 1. The IJA's Last Battle
Scenario Java 2. Unlikely Allies
ERRATA
We strive for a perfect product, but sometimes human error creeps in.  The following scenario errata has already been incorporated into the Scenario Designers Guide, so anybody who purchases the guide now need not worry about it.  However, the earliest purchasers of the guide should note the following errata:
JAVA2.  Unlikely Allies.
    Indonesian Order of Battle.  Setup instructions should read "Set up anywhere in playing area, at least 3 hexes from all board edges."
BALANCE ERRATA
JAVA2. Unlikely Allies.  This errata has not yet been incorporated into the Guide.  It reflects an attempt to better balance the scenario after a number of playings in the "real world."
     Indonesian Order of Battle.  Remove 1 3-4-7 squad.