ASLOK on the first Saturday morning. As many as 30 people would actually show up for the first day.
Early arrivals David Goldman (Chicago) and Peter Struif (Canada by way of Netherlands) get their game on. This was only David's preliminary nest; he would later set up a far more comprehensive nest.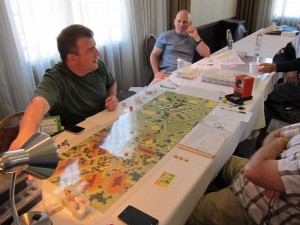 Some more Saturday gaming. Visible are Will Willow and Jeff Waldron.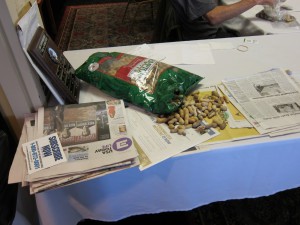 Some of the trademark signs that "Wild Bill" Hayward is in the room.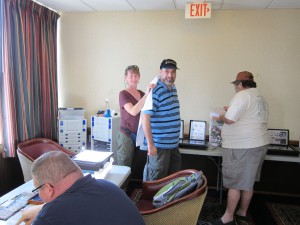 The ASL fitting room. Mark Humphries gets fitted for a t-shirt by Helen Doary of Battleschool fame.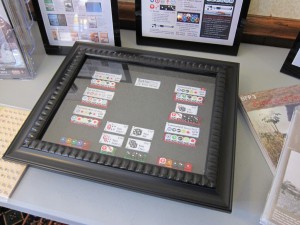 An elaborate display case showing some of the latest custom precision dice being offered for sale by Battleschool.
Chris Doary of Battleschool fame prepares to take on Mike Faulkner of Schwerpunkt fame. Notice that Chris is one of the nesters.
The famed ASLOKer mumble cough mumble looking over his cardboard domain.
Dutch ASLer Hennie van der Salm and Ohio ASLer Stan Jackson do battle.
Hennie's counter-covered dice tower.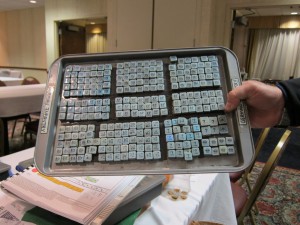 One ASLer–I don't know his name–magnetized his entire counterset.
Washington ASLer Rich Jenulis. The bastard would beat me later in the week.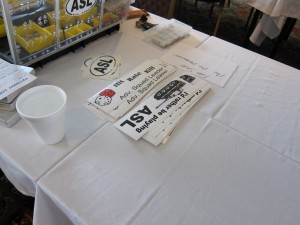 ASL bumper stickers offered by Michigan ASLer Joe Steadman.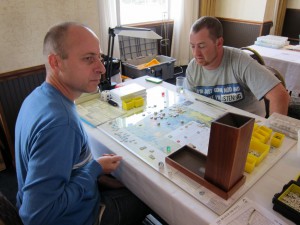 The aforementioned Joe Steadman (right) surveying the cardboard carnage created by Peter Struif.