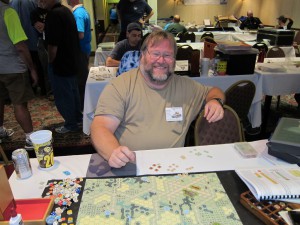 Colorado ASLer Martin Snow getting ready for our game. It was the first time I played Martin and he turned out to be a really fun opponent.
Canadian Michael Rodgers is on the right, playing a scenario from Purple Heart Draw with someone who I can't quite make out (Pete Shelling?).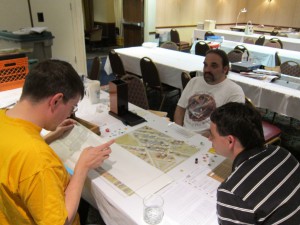 Pennsylvania ASLer Roger Whelan and two friends (whom I don't know) got together to play the three-player scenario included in Festung Budapest. Not sure if anyone survived all those sniper rolls.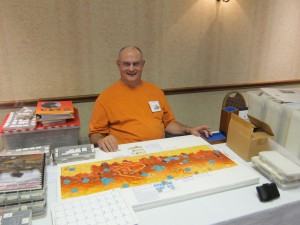 Michigan ASLer Jeff DeYoung getting ready to play a scenario on one of his elaborate scenario boards (more photos to follow).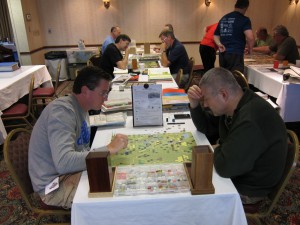 Deep in concentration, Phillip Briaux (right) plots his strategy against ASLer Russ C of Georgia.
Larry Zoet, Jeff DeYoung and several others play the massive scenario Operation Rosselsprung.
Peter Struif (right) and I think Darrell Wright in profile.
I am not sure I know the gentleman on the left but the person on the right is Texas ASLer Doyle Motes attending his first ASLOK.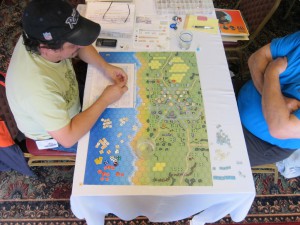 Two ASLers playing a scenario with the beautiful beach board from LFT.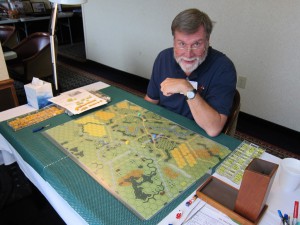 I think this is Seattle-area ASLer Richard King, attending his first ASLOK.
"Wild Bill" Hayward plays Stan Jackson in the foreground, while in the back left, ASLOK organizer Bret Hildebran downloads porn from the Internet.