The ASLOK "annex," probably mid-week.
The main ASLOK room, probably mid-week. Attendance was smaller than last year.
Andy Hershey (left) and Michael Rhodes enjoying some Budapleasure.
Italian ASLer Andrea Pagni making a return to ASLOK.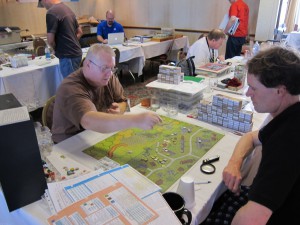 People still play DASL?
David Goldman and Michigan ASLer Larry Zoet in David's man-cave/nest.
ASLOK tournament director and all-around nice guy, Bret Hildebran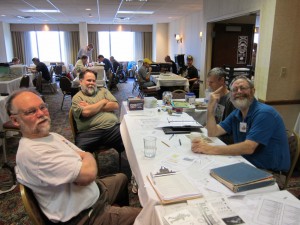 The ASL brain trust? Left to right: Joe Devine, Gary Fortenberry, Bill Hayward and MMP's own Perry Cocke.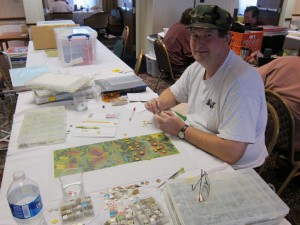 Stan Jackson again. Why do I keep taking pictures of him? Do I have a man-crush on him? Stan, I wish I could quit you.
Scott Houseman of the Eastside Gamers, hawking his wares.
Some of the Detroit ASLers (see below) getting together for some First Bid action from Valor of the Guards.
Left to right: Dave Lamb, Mike Laplante, Fred Schwarz, P. J. Norton, and Will Willow.