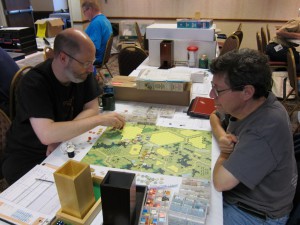 Rob Seulowitz (left) plays Phil Pomerantz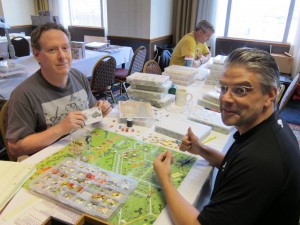 JR Van Mechelen (left, of ROAR fame) plays Will Fleming of Japan. Will got pissed after one ASLOK when I did not recognize him, so please note I remembered what you looked like this year.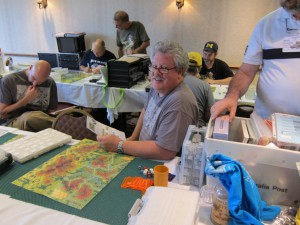 Larry Zoet, meek and mild-mannered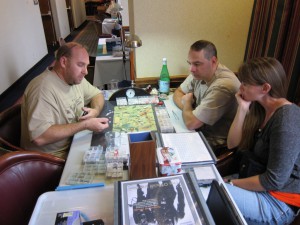 French ASLer Xavier Vitry (of LFT fame) plays Chris Doary while Helen look on.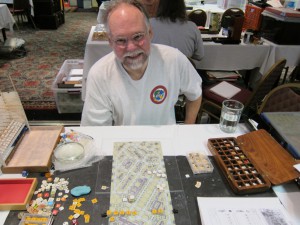 Joe Devine of Ohio gets ready to play me. Joe was one of my first opponents at the very first ASLOK I went to, in 2001.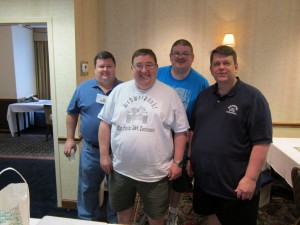 The luminaries of Schwerpunk: Randy Thompson, Hugh Downing, Mike Faulkner, and Evan Sherry. A great group of guys.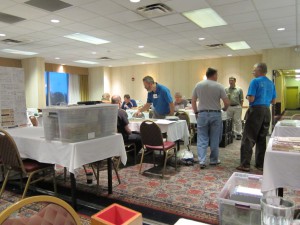 Just another look at the main ASLOK room, later in the week.
Al Kirkpatrick again, Desperation Morale supermodel.
A look at the annex, later in the week.
Philippe Briaux, across the Atlantic and here to kick ass
Jeff DeYoung shows off his 3-D Mamayev Kurgan map (see later photo of map in action).