Museum Fest is an outgrowth of Office Fest, which was a thrice-yearly two day ASL gathering in Detroit, Michigan, hosted by P. J. Norton. Now it is hosted at a small military museum in Eastpointe, Michigan (still Detroit, basically). There are now non-ASLers playing games, too, but I did not take any pictures of that.
It is a fun little gaming get together, so if you live in SE Michigan, NE Indiana or NW Ohio you should consider coming to it.
P. J. Norton plays someone shaggy. The light is better than it seems in this photo, though it wasn't great (which is why some people brought extra lamps). P.J. is wearing a cap because on Friday it was cold in there (the furnace wasn't working right). Luckily, they got it fixed.
Fred Schwarz and someone getting ready for some DASL
Alex Key, a really nice guy. He helped me help out a fellow ASLer who had lost his American counterset at ASLOK. Alex game me a mess of counters and between those and my own extra countersheets, I was able to assemble an American OB for my friend. Thanks, Alex!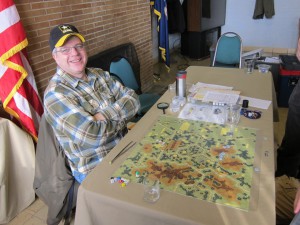 Fred again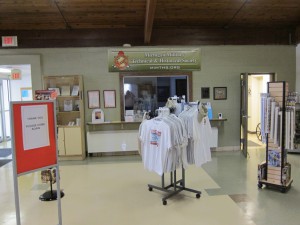 A shot of the lobby of the Michigan Military Technical & Historical Society, mimths.org
A 1/6 scale Stuart tank
One of my opponents. I forgot to write his name down, so I don't remember it–it was the first time I played him. A nice guy.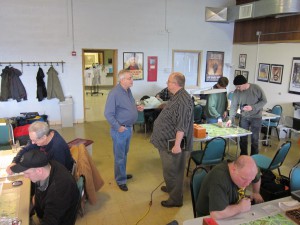 Glenn Houseman, standing on right, talking to someone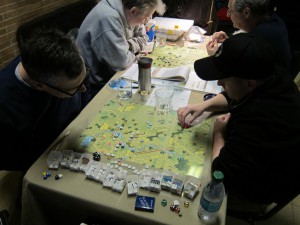 I think this is Eric Safran playing Will Willow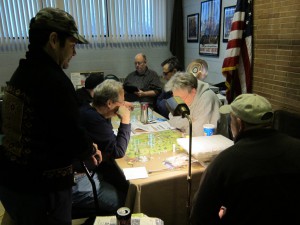 Bob Davis playing Dave Lamb (hidden behind lamp)
Fred, Dave and perhaps Will