I've included some photographs from the 2013 Winter Offensive ASL tournament, held each January in beautiful (ahem) Bowie, Maryland. The Winter Offensive tournament is the only ASL tournament actually hosted by MMP, the producers of ASL. It is the 2nd largest ASL tournament in the U.S. and thus the world. In recent years, alas, MMP has opened up the space to include non-ASL games as well. It began with other games published by MMP but this year included a bunch of other stuff, including a weird fantasy naval miniatures game. I wish the non-ASL stuff could be done in a different tournament (Summer Offensive!). In any case, I did not take any pictures of the non-ASL stuff.
I will divide the photos into several different posts, for ease of viewing. I have included captions, including names of people when I remember them. Let me note for the record: I am just plain awful at putting names and faces together and I often have to meet and interact with someone several times before I will finally consistently remember the name to the face. I can't do anything about it; it's just the way my brain works (or doesn't work) and if you find yourself in a photograph but unidentified and you think I should damn well know who you are, I just apologize. I can't help it. That's why I love nametags.
The other disclaimer is that I have no skills at photography, so these are what they are. Hopefully I can do an AAR of Winter Offensive in the near future.
Joseph Ladd shows off his nifty bound rulebooks. Nice job. Met JL for the first time this Winter Offensive; a very pleasant opponent.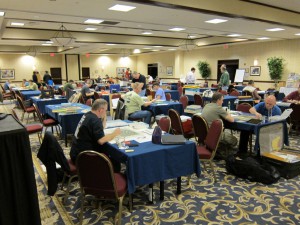 Winter Offensive room probably on Friday
Sean Deller scrutinizes the mapboard. I would play Sean for the first time this Winter Offensive and have a fun time.
Looks like a little Stalingrad action going on. Nice dice towers, too.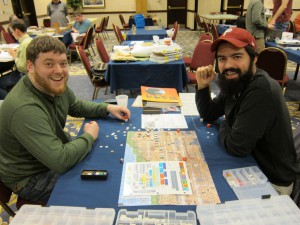 I do not know these guys! But they look like they are having fun!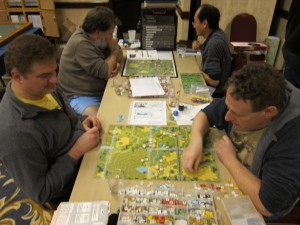 Kevin Meyer and J.R. van Mechelen duke it out in the rice paddies.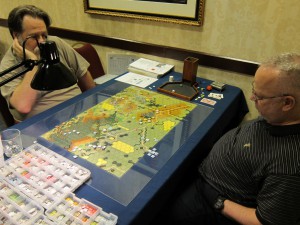 Gary Fortenberry and Alan Saltzman ponder whether life has any ultimate meaning.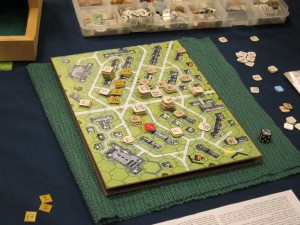 There's a compact little scenario.
The vaunted Wall of Gear. Note dice towers and boxes brought for sale.
Mumble mumble playing Mumble mumble!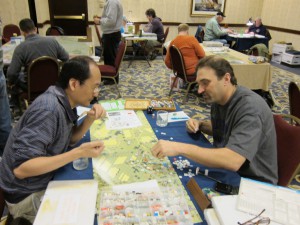 Gary Mei getting it on, so to speak, with Ken Modiuski
Phil Palmer and the back of someone's head.