Publisher/Date:
Multi-Man Publishing (2020)
Product Type:
Mini-Scenario/Map Pack
Country of Origin:
U.S.A.
Contents:
1 8" x 22" unmounted geoboard (86), 4 scenarios on cardstock
Commentary:
ASL Roma 2020 is a mini-scenario/map pack from MMP that is similar in nature to its Winter Offensive Bonus Pack series, in that it contains a new official geoboard and a small number of scenarios (in this case, four).
The pack was a joint effort between MMP on one hand and, on the other, the Italian organizations Federazione Italiana Wargame and ASL Italia. The idea was to debut the pack at the 2020 Rome Wargame Gathering, an annual gaming event that began in 2019.  Gabriele Mazza designed the included geoboard, which was rendered by Charlie Kibler, while two of the scenarios were designed by people who regularly design for MMP (Ken Dunn and Pete Shelling) and the other two by Italian ASLers Paolo Cariolato and Sebastiano Caltabiano.  A mix of American and Italian ASLers provided the playtesting.
It is possible that this joint effort was born out of a visit by MMP co-founder Perry Cocke to Italy in 2019, where he attended the inaugural Rome Wargame Gathering. Your humble author can just imagine Perry and Paolo colluding over a cup of cappuccino.  In any case, it is rare for MMP to support an ASL tournament like this with an official product.  Aside from their own Winter Offensive tournament, the only other tournament MMP has graced with any tournament-specific product has been ASLOK.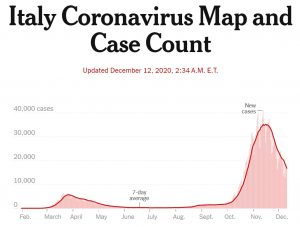 It should be noted that, while it is great that the occasion of the Rome Wargame Gathering resulted in trans-Atlantic cooperation and the production of a new official ASL product, it is rather lamentable that the Rome Wargame Gathering occurred at all.  It took place in mid-October 2020 at a time when coronavirus cases were spiking again in Italy (indeed, only two weeks later, the Italian government would have to announce major regional lockdowns in order to combat the second wave of the virus).  RWG attendees wore masks but in no way social distanced (something impossible to do with face to face board wargaming, in any case).  They spent many hours at a time directly facing other people at very short distances in an enclosed area–perfect conditions for the virus to spread.  Hopefully nobody died or was hospitalized as a result of attending the RWG or from contracting the virus from someone who did attend the RWG.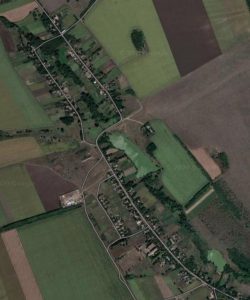 In any case, the ASL Roma 2020 mini-pack is out.  It introduces board 86 to the ASL system.  The "bottom" half of the board features a fairly large tree- and brush-strewn Level-2 hill, while the "top" half of the board features a small village strung out along a road.  This is actually a useful addition, because a number of Eastern European villages resemble this layout (see actual Ukrainian satellite example to the left).
Board 86 also reintroduces a terrain feature not seen much since the days of Squad Leader:  the combined woods-building hex.  There are no fewer than five of these puppies on Board 86.  So pop in your Blu-ray of The Cabin in the Woods, break out your rulebook, and go to town on them.

The four scenarios included in Roma all either feature Italian troops or are set in Italy.  The scenarios include:
ROMA1 (Eight Million Bayonets), Greece 1940 (Greeks vs. Italians).  This scenario is set in the early days of the Italian invasion of GReeece in late 1940, before the weather, supply difficulties and staunch Greek resistance stopped the invasion cold. It features 13 Italian squads, strengthened by 3 mortars and 8 AFVs (7 tankettes plus a flamethrowing tankette) attacking 8 Greek squads with three infantry guns. It has complicated victory conditions. ASLers should be aware that play of this scenario requires Board 81 from Forgotten War, which many ASLers may not own.
ROMA2 (Second Hand News), Corsica 1943 (Italians and French partisans vs. Germans).  This scenario depicts a slice of some fighting most ASLers will not have heard of.  The September 1943 Allied liberation of the Mediterranean Island of Corsica (a French island that had been occupied by the Italians and, after the Italian surrender, by the Germans) is one of the forgotten operations of World War II, typically skipped over or barely mentioned in the history books (at least the English language ones).  The situation on the island was complex, as it was full of Italian troops who had not yet been disarmed by Germans (who had begun to arrive earlier in the summer, suspecting they would have to take over), as well as angry Corsicans impatient for their freedom.  For months, the Corsican partisans had been receiving weapons from the Allies via submarine and air drop.  Moreover, in North Africa the Free French were impatient for the opportunity to assist in the island's liberation. The Germans, meanwhile, had troops of high quality but fairly low numbers on the island and realized they likely could not hold it in the long-term but wanted, at the least to deny it to the Allies and use it to help evacuate German units on Sardinia.  After the Italian surrender, the partisans rose up against the Germans; this prompted a Free French invasion of the island.  The Germans struck back, not only against the French but against the Italians.  Thus the Free French, Corsican partisans, and the Italians ended up fighting against the Germans, who conducted a skillful retreat across the island to the port of Bastia, from which they were evacuated. As you can tell, your humble author has long been interested in this little battle.
The scenario Second Hand News depicts some of the fighting in the middle of the withdrawal to Bastia.  In it, 10 5-4-8 SS squads and two StuGs have to move north to exit off the map edge and/or control buildings (to deny them to the Allies).  Seven French partisan squads with no SW occupy the ground between the Germans and their exit. Meanwhile, 12 Italian squads start behind the Germans. The Germans get Exit VP, while the Allies get CVP plus VP per stone building locations controlled at game end.
ROMA3 (Salarola Junction), Italy 1943 (New Zealanders vs. Germans).  In this SSR-laden scenario, 8 New Zealand squads and several AFVs are attacking a mixed German force of 7 varied and pretty well armed squads. Simplified night rules are in effect for most of the scenario. The VC are rather odd: the New Zealanders win by controlling a certain number of multi-level buildings unless the Germans can get a DC to hex T6, Set the DC there, and detonate it successfully. T6 is just a crossroads hex.
ROMA4 (Mountain Marines), Italy 1944 (Americans vs. Italians and Germans). In this scenario, 14 American 1st-line and 2nd-line squads (from the all-black 92nd Infantry Division) are on the attack against 10 "German" squads with some mines. Most of the Axis forces are RSI Italians but they are all represented by German counters, so (with a few minor SSR-imposed exceptions) it basically feels like an all-German force. The scenario continues a trend among MMP scenarios of recent years of having complicated victory conditions.  When VC take 7 lines of text to explain, they may be too involved. In any case, the Axis win by getting 8 CVP more than the Americans by game end.  Assuming this doesn't happen, the Americans win on Game Turn 4 if they control 4 or more buildings, on Turn 6 if they control 8 or more buildings, or at game end if they control 11 or more buildings.
This scenario uses Prepared Fire Zone rules and counters from Hakkaa Päälle!
To play all four scenarios in this pack, players will needs boards 34, 81, and 86, as well as various overlays.