Publisher/Date:
Broken Ground Design (2018)
Product Type:
Counter Pack
Country of Origin:
Canada
Contents:
1/2" and 5/8" die-cut ASL counters (numbers and type vary by specific counterset or bundle sold)
Commentary:
Beginning in 2018, Canadian third party publisher Broken Ground Design (aka Alan Findlay) began releasing variant-art ASL counter sets for various ASL nationalities and forces, much like Critical Hit had similarly begun doing in 2017. As with that series, Desperation Morale here includes all counter sets sold by Broken Ground design here in one entry, to reduce needless duplication as well as confusion (because Broken Ground Design not only sells various counter sets individually but also in various bundles).  Findlay has said he decided to try creating ASL counters during a period in which he was unemployed and suffering from depression and thus "had time on my hands as I sorted through his life."  His personal struggles thus may have ended up benefiting other ASLers (and hopefully he is in a better place now).
Each offering consists of a number of 1/2″ or 5/8″ die-cut counters in sheets, ranging from a single half-sheet to multiple full sheets, depending on the number of counters needed. In general, Broken Ground has eschewed leaving any counters blank, so some sheets may contain various numbers of "filler" counters that don't necessarily meet the general theme of the offering.
Note that countersheets are all that come with a purchase.  There is no listing of counters by type (particularly important for noting variant or other new counters that have been included with some of the counter sets) nor is there any explanation of how to read/understand the counters (though BGD does include partial explanations for some of the counters here).  Nor, it should be noted, are countersheets wrapped in plastic/cellophane or included in baggies. Purchasers should either punch the countersheets quickly after obtaining them or store the countersheets in a large plastic baggie, lest some counters inadvertently get separated from their countertrees and become lost forever.
Going forward, BGD needs to include all three of these items with any purchases.
This write-up first looks at the design of the counters and their features, generally, and critiques them on the basis of aesthetics and functionality, then lists and comments on each individual counter set offering. Some people may find some of the criticisms very fine indeed, or even petty, but this is done because 1) purchasers need to understand how these counters are different from official ASL counters, and 2) some people are very picky about their counters, including what counters they will use or allow to be used. Moreover, many of the points raised here are descriptive rather than necessarily disparaging.  Finally, when it comes to the aesthetic issues, it goes without saying that, while certain broad points about aesthetics are generally agreed upon and thus may be stated with confidence, more narrow aesthetic issues may be much more subjective and may depend to a much greater degree on the personal tastes of a specific individual rather than broad consensus. In short, some of the things I like or don't like about the counters you should or shouldn't like, either, but regarding other aspects of the counters, your opinions are just as valid as mine, and vice versa.
Physical Quality
First, let's look at the physical quality of the counters.  The counters are die-cut (like wargame counters, including ASL counters, traditionally have been), not laser-cut (which a few small wargame companies now use). There is nothing wrong with laser-cut counters, per se, but they can often be distinguished from traditional counters, which is not that desirable in ASL. So having die-cut counters is good. The counters have corner nibs rather than side nibs (meaning that they are connected to each other and to the counter-trees by stopping the die-cut at each corner, rather than in the middle of each side.  In olden days, ASL products had counters with side-nibs, which could be a nightmare, especially if the die-cutting was not good (MMP finally shifted to corner nibs). So it is definitely a good thing that the counters have corner nibs. The counters are also graycore counters, rather than whitecore counters; these are two different ways that wargame counters may be manufactured (in terms of different layers of paper or cardboard). The terms gray and white here simply reflect how counters look from the side/edge: is the middle gray in color, or white? Whitecore counters are more modern and (some thing) better than graycore counters, but  the key thing here is that traditional ASL counters are all graycore, so any third party whitecore counters stand out in a stack (which is generally not a good thing in ASL).  Some ASL players don't even want to play with any third party counters that might be whitecore, so the fact that Broken Ground Design counters are graycore is also a good thing.
It should be noted that the countersheets themselves leave a bit to be desired in terms of labeling. Many wargame manufacturers will label their countersheets "1 of 6," "2 of 4," and so forth, so that players may confirm that they have all the countersheets from a particular game or set. Moreover, it is common for countersheets to be fully labeled with the product the countersheet belongs to, to aid in identifying countersheets, especially stray countersheets. For example, MMP's Forgotten War module has countersheets labeled like this:  "FORGOTTEN WAR (sheet 1 of 7, front)."  Many wargame companies will go even further and label each nationality as well (so that if a countersheet consists partially of German counters and partially of Polish counters, the section of German counters will be labeled "German" and the section of Polish counters will be labeled "Polish). The Broken Ground Design countersheets do not do this.  Instead of a product label, they simply use abbreviations, such as "FI" for Finnish. Moreover, though each countersheet is numbered, they aren't numbered as a set.  So a Broken Ground Finnish countersheet might read "FI4," meaning that this is the fourth Finnish countersheet–but whether it is the fourth of four, or the fourth of five or six, one couldn't tell. These are little things that actually do have practical usability issues behind them–especially when, as here, someone may be purchasing multiple counter sets at the same time, and when said counter sets are not individually wrapped in plastic or put in baggies.
The die-cutting on the counters is generally good–ideal die-cutting is not so deep that counters detach themselves at a mere touch (which is a great way to lose counters) but not so shallow that it is difficult to separate the counters from their trees or from each other. Here, the die-cutting seems to be prefect for 5/8″ counters and a bit deep for 1/2″ counters (so be careful with those).  One does not need to use an exacto or a razor blade to cut the counters (though some players will, anyway, because that's what they do).  The nibs left behind are noticeable, especially for 5/8″ counters, which will drive the obsessive-compulsive to trim the corners (counter clipping is extremely common within ASL), but do not really seem to be worse than the nibs for modern official ASL counters.  It should be noted that counter dies wear out with use, becoming less sharp and thus cutting less deeply. So these remarks apply to BGD counters printed in 2018-2019 but if the same die is being used by the printer five years from now, it is possible the die-cutting on those counters will be poorer (dies eventually have to be replaced).
Desperation Morale has inspected many BGD countersheets but by no means all of them. The printing to die-cutting alignment on the sheets inspected was generally good but not perfect–the counter art was usually centered and not mis-aligned toward the top, bottom, or one of the sides (much less actually spilling over the die-cutting). However, some countersheets exhibited a degree of misalignment. In Romanian countersheet #3, for example, the two-toned outlines for squads are thicker on the bottom and on the left than on the top or the right, especially for those counters in the upper left hand corner of the countersheet. It's not egregious by any stretch but it's not the best of alignments.
Aesthetic Quality
If the physical quality is good, how is the aesthetic quality?  Wargame producers over the last 60 years have discovered that there are lots of ways to go wrong with counter design. Third party producers of ASL counters may encounter all of these wrong paths if they decide to create their own unique layouts (cf early Critical Hit attempts like this and (gasp!) this) or fewer such issues if they adhere more closely to the design and layout of official ASL counters. Third party producers often, however, seek to create a somewhat different "look and feel" for their counters, as opposed to official counters, as duplicating "look and feel" can create copyright liabilities.  This is one reason, for example, that Bounding Fire Productions, whose counters otherwise hew pretty closely in look and feel to official counters, puts a "BFP" on each and every one of their counters.
Broken Ground Design has also labeled all its counters with initials, but many players might not even notice this, because the initials appear on the back side of the counters.  BGD has also used other methods to create a different look and feel, primarily through font choice and artwork.
Let's look at MMC counters first. BGD counters use unique artwork, with color, to depict the two or three figures on squads, half-squads and crews. It's slightly cartoony but there have been worse. Each squad type (elite, 1st line, conscript, etc.) has a slightly different figure artwork, but in most cases the differences are so subtle you really have to hold counters close and scrutinize to notice the variations.
Most nationalities use their traditional ASL colors but a few offerings have alternative color schemes, including two-toned Free French, Polish, and Romanians. For a couple of nationalities, more than one offering is available.  The Nationalist Chinese, for example, are offered in their traditional two-toned counters, but also offered (in a separate set) as a somewhat darkish blue, ostensibly because of the blue of the Nationalist Flag.
The most immediately distinctive aspect of the counters is that BGD counters use a very different font than official ASL counters do when it comes to the main factors (firepower, range, and morale) for MMC. It is a fat, squat-looking font (seemingly Arial Black). Moreover, the factors are separated by dots rather than dashes.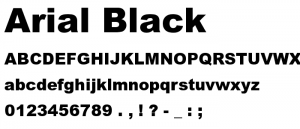 Desperation Morale is not a fan of this font for ASL counters, nor does it like the dots between the factors. It looks worse when viewed on the screen than when actually printed on counters, but it feels inferior, aesthetically, to official counter design. Your mileage may vary.
Underlines for Assault Fire, Spraying Fire, etc., stay as they are traditionally. Squad ID numbers appear in a different corner. Smoke exponents do not appear in their traditional location but appear hovering over the firepower factor in a white or white or black circle like a little UFO. The decision to do this may have simply been to make the counters look more different, but it might also have been needed because the fatter font did not leave sufficient room for smoke exponents to be located in their traditional place.  Regular smoke exponents use a white circle, while MMC with SMOKE use a red number on a white circle. The squads with a white smoke exponent over a black circle or a white exponent over a red circle are supposed to be Assault Engineer squads. This is a less intuitive and obvious design solution than the official ASL Assault Engineer squads that have a satchel depiction on them. So many varieties gets a little confusing. Not all nationality sets seem to offer Assault Engineers, by the way.
Squad class types (elite, 1st line, etc.) appear in their traditional location, but some nationalities have an entire duplicate set of squads and half squads with a different looking class type. This is because Broken Ground Design provides a whole second set of squads of each type for those nationalities whose broken-side morale may change based on opponent. A regular squad simply has its class designation as normal in the upper right corner of the counter.  A squad whose broken side morale is, via ASL rules, not decreased by one (such as Greek or Yugoslav forces opposing Italians or Romanians or Hungarians fighting each other), is now represented by a separate counter with the increased broken side morale on the back and their squad class type appearing in white against a square black background on the front.
This is one of the questionable design decisions made by Broken Ground Design.  First, this decision requires duplicating the entire MMC counter set. In the case of the Romanian set, that means an additional 100 counters that are only to be used for this narrow purpose. That's more strain on counter storage systems, as well as more expense.  Second, as a practical matter, this design choice is problematic, because a black background around the squad class type is not an intuitive reminder that something is different about the morale on the other side of the counter, while someone viewing the back of the counter is not necessarily going to notice that the morale may not be what it is supposed to be (the counters also have a tiny black square with lettering [such as VS HU, for "vs. Hungarians"] but the lettering is so small it's not that visible at a mere glance.  The most likely result of this design choice is that players would often choose the wrong counter type and not even notice it.  A better design decision would simply to have a single set of MMC counters, but on the reverse (broken) side, simply have two morale values, such as 5/6 or 6/7. There is plenty of space for two values and the very fact of two morale values will be a visual reminder that, for this nationality, sometimes their broken side morale may be different than from other times or situations. Problem solved with no duplicate counters and a better visual reminder.
Four squads for each squad type do not have a normal morale but rather a white-colored morale with a thin black outline. These are to designate Fanatic squads. Some ASL players may like this, but it would seem that a Fanatic counter is still better, because it has relevant information on the reverse (such as noting no PAATC is required).
Each Leader also come in several varieties–normal, Wounded and Fanatic (and even Wounded Fanatic). There are also Hero Leader counters, which look very strange until you figure out what they are. Normal leader counters have names, but the other flavors do not. The thick font crowds the leader depiction, especially for 10-2 and 10-3 leaders. The Wounded leaders have their wounded morale and fire modifier depictions, as well as a small "3 MF" indicator and a small Red Cross.  The Red Cross probably should have been larger and moved to a more visible location on the counter.
For some reason, only 4 Armor Leaders are provided for each nationality (2 x 9-1, 1 x 9-2, and 1 x 10-2), instead of the 6 provided in official ASL countersets. The reason is that the reverse side of the BGD counters provide 8-1 Armor Leaders instead of the information about what Armor Leaders can affect (information Your Humble Author often uses the reverse sides of official Armor Leader counters to reference).
Half-squads are basically similar to squads. Crews are somewhat mysterious, with sets coming with two types of vehicular crews (unexplained) and one type of infantry crew (or double that for certain nationalities, like Romanian, because there are more crews with higher reverse morale for fighting Hungarians).  Crews (and any other self-rallying units) have a really thick box around their broken-side morale.
Support Weapons are basically normal, except the artwork depicts the weapons from a different angle. Some nationality countersets have random "captured" SW from other nationalities included.  Flamethrowers have red factors, to emphasize their burny-ness. The kerning (spacing between letters) is sometimes a little tight, sometimes very tight. In the French nationality set, for example, the letters "INF" for the 37mm 1/2″ INF gun seem to touch.
Broken Ground Design AFVs do not have any crazy changes, thank goodness, but are definitely noticeably different.  Part of this is the vehicle artwork but the main reason is that the fonts for the MA and MP are very different from official counters–and not the same font BGD uses for infantry counters, either.  Rather the font here seems to be Impact and it is a very distinctive thick font.
Once more, this is not a font Desperation Morale is crazy about. It's very thick, takes up a lot of space, and definitely appears to make some text (such as 15PP AAMG) look squeezed.
The vehicle designation  (T34/85, etc.) appears at the top center of each AFV/vehicle counter in extremely tiny letters that are definitely hard to read. What is more, the new location for the designations frequently conflicts with slow/fast/1MT markings as well. Not good.  One thing that is nice is that the white circular and oval depictions for trucks, armored cars and half-tracks is more visible and discernible than on official AFVs; with these counters, one does not have to crane one's eyes so much to determine if a vehicle uses Truck MPs or AC MPs.
For Guns, the model designation appears in yet another place–on the left-side of the counter, underneath the unit ID. This is not a bad location, but the print is still too small.
Some nationality sets have additional, variant AFVs (and perhaps guns), but there is no listing or explanation for them, so players would have to notice them on their own.
Snipers now come in six varieties, one for each possible SAN, with the SAN appearing on the counter.  Some vehicular concealment markers have a strange depiction on the back that appears perhaps to be some sort of 5/8″ Blaze counter. It's not very clear. Other vehicular concealment markers have other things on the reverse, like motorcycles.
Counter Set Offerings (Info/System Counters)
Acquisition Markers. 1 sheet, 280 1/2″ counters. Nationality-colored 1/2″ acquisition marker sets for some (not all; no PTO) nationalities, plus 64 armor leader counters.
OBA Markers. 1/2 sheet. 88 5/8″ counters. OBA markers (AR/SR/FFE:1, etc.) distinguished by caliber, in two colors (red and blue, so each side can have a color). Also includes Bicycle counters, because they help you run away from OBA.
"Optional & Heretical" Markers. 1/2 sheet. 140 1/2″ counters. Panzerfausts, IIFT residual firepower, various minefield counters. Basically useless.
Area Acquisition Markers. 1 sheet. 176 5/8″ counters. Area acquisition markers in 19 colors, plus some pillboxes.
1/2″ Concealment Markers . 1 sheet. 280 1/2″ counters. Concealment counters for various nationalities.
5/8″ Concealment Markers. 1 sheet. 176 5/8″ counters. AFV/Gun concealment counters for various nationalities (19 colors). Backs contain various fortifications, entrenchments, motorcycles, wagons, and other markers.
Humorous Info Markers. 1/2 sheet. 140 1/2″ counters. This is a small set of ostensibly "humorous" Info markers that replaces standard Info marker graphics with a joke graphic. So, for example, there are Melee counters that show two cats fighting. There are Shock counters that show someone getting zapped by lightning. There are DM markers that use Edvard Munch's painting "The Scream" for a graphic. Don't forget to tip your waiter, folks.
Snipers. 1 sheet. 176 5/8″ counters. Snipers offered in 19 sets of six counters each (one for each possible SAN). Also various Sangar, Rubble and other counters.
Nationality Set Offerings
Axis Minors Expanded Counter Set. 3 1/2 countersheets. ?? total counters. Green counters for Bulgarian, Croatian and Slovak forces (but no Romanians or Hungarians; you have to buy them separately).
Allied Minors Expanded Counter Set. 3 1/2 countersheets. ?? total counters. Light green counters for Norwegian, Dutch, Belgian, Greek, and Yugoslav–but no Polish–forces. Also includes several vehicles found in the Dutch East Indies and the Belgian VUDB(f) APC, whatever the hell that is (no Chapter H data included).
British Expanded Counter Set. 6 countersheets. ?? total counters. British counters, minus the Free French stuff. Includes several "new" and captured vehicles (though no Chapter H data).
U.S. Army Expanded Counter Set. 4 1/2 countersheets. ?? total counters. American counter set except for USMC and Early War/Philippine Army counters. Includes counters (but no Chapter H info) for various "new vehicles."
Finnish Expanded Counter Set. 3 1/2 countersheets: 352 5/8″ counters & 420 1/2″ counters. A bin of Finns. "New vehicles" but no new Chapter H info, included.
Free French Expanded Counter Set. 4 countersheets: 352 5/8″ counters & 560 1/2″ counters. The Free French get their own color scheme here–two toned counters with French interior and khaki or "sand" exterior. Includes several "new vehicles," but no new Chapter H info. Would have been nice to have had some captured German SW, as some Free French units used some.
French Expanded Counter Set. 3 countersheets: 352 5/8″ counters & 280 1/2″ counters. The French OB, including "new vehicles," though no new Chapter H info.
German Expanded Counter Set. 8 1/2 countersheets.  ?? total counters.  The bad guys. Also "many captured" guns/vehicles/SW" and "a varied selection of rare and unique vehicles," but no Chapter H info.
Hungarian Expanded Counter Set. 3 1/2 countersheets. ?? total counters.
Romanian Expanded Counter Set. 4 countersheets: 352 5/8″ counters & 560 1/2″ counters. Use a unique two-tone (brown and green) color scheme.
Italian Expanded Counter Set. 4 countersheets. ?? total counters. Includes "a set of MMC…based on Banzai 19.1 e-zine, with new Class E units, as well as post-Armistice RSI units."
Italian Supplement for Le Franc Tireur #14. This is a small set of counters created by but not offered for sale by Broken Ground Design that consists of Italian concealment markers, vehicles and guns that, together with the new Italian counters provided in that issue of Le Franc Tireur, allows players to play all of the scenarios in that issue without having to resort to Hollow Legions counters (which are long out of print). These were provided at cost by BGD to ASL on-line retailer Ritterkrieg, which offered them free with any purchase.
Partisans Expanded Counter Set. 4 countersheets: 840 1/2″ counters and 176 5/8″ counters.   Includes three sets of two-tones partisan counters, one for "Western Europe" partisans (blue/brown), one for "Eastern Europe" partisans (light brown/brown) and one for "Balkans" (light green/brown).  Includes "a wide variety of SW" and a sheet of AFVs/Guns "loosely based on Tito's Partisan Army," plus two captured Panthers used by the Polish Home Army during the 1944 Warsaw Uprising.
Polish Expanded Counter Set. 2 countersheets. ?? counters. Special two-tone color scheme ("sand"/light green) for the Poles.  Includes counters for "TKS variants" but no Chapter H info.
Waffen SS Expanded Counter Set. 6 countersheets. ?? counters.  If you are disturbed enough to seek out Waffen SS counters in black, look no further, because BGD is willing to be your enabler.  At least they don't use SS lightning bolt symbols (which are a common white supremacist hate symbol).
Berserkers. 1 sheet. 280 counters.  Not actually a "nationality," this is a set of 1/2″ counters depicting various squad and leader types as white-on-red berserk counters as in the original Squad Leader. The artwork is so-so. Doing this variant with full ASL involves, as one can see here hundreds of counters, whereas doing it the official way, using Berserk markers, requires only a tiny number of counters.  Just an example of where this is much more cumbersome than going the official route, probably offering more cumber than actual value in coolness.
Chinese Communist Expanded Counter Set. 1 sheet. 280 counters. Chinese communists in a light-brown (Soviet) color scheme. Included are 3-3-7 "1st line" and 4-4-7 "1st line" counters, plus some MG, DCs and MTRs, and SMC. Oddly, they also get 2 radios, but the Chinese communists during World War II definitely did not have the equivalent of OBA (they developed that capability later, during the Chinese Civil War).
Chinese KMT Expanded Counter Set.  2 1/2 countersheets. ?? counters. Includes "captured Japanese vehicles."
Chinese KMT Expanded Counter Set (Blue). 2 1/2 countersheets.  ?? counters. Another set of KMT counters, but using a shade of blue instead of two-toned counters.  Granted, two tone counters suck worse than a vagrant siphoning gas from your grandmother's Caddy, but the blue here is too close to Germans and French. Would have been better simply to choose another color, like a blue-green or off-white.
Filipino Guerrillas Counter Set. 1/2 countersheet. 140 1/2″ counters.  A rather odd and specific set here. Uses two-toned counters, with U.S. green on the outside and brown in the center. Includes 12 LMG counters and 3 DC counters, but is otherwise just 3-3-7 squads/half-squads (plus their fanatic variant) and leaders/heroes.
Japanese Expanded Counter Set. 3 countersheets. ?? counters. Includes captured vehicles plus more armored cars, but no Chapter H info.
U.S. Marines Expanded Counter Set (Olive Drab). 3 countersheets.  ?? counters. USMC with an olive-drab color scheme.  Seems to include landing craft as well.
U.S. Marines Expanded Counter Set (USMC & Philippines Army). 2 countersheets. ?? counters.  USMC and early war U.S. Army/Philippine Army. Appears to be MMC only, with a small number of SW.
The Bottom Line
There are a lot of counters offered for sale here.  If you just love counters, or love clipping counters, or organizing counters, or having more counters than any other kid on your block, these are the products for you. Obviously, if you are an obsessive ASL collector and completionist, you will probably have already bought all these.
But other than counter lovers and collectors, who is the market here?  One theoretical market are those ASL players who do not have a complete kit and are frustrated that many MMP core modules are out of print. Certainly, one can get Italian counters here without having to wait for Hollow Legions to be printed again. Of course, one doesn't get any Chapter H pages with these counters (not even for the new counters, much less for the ones already in the system), which still means these counters are not a perfect alternative.  Also, these counter sets are bloody expensive. The German counter set alone sells for $94. As of this writing, Beyond Valor, which contains the official German ASL counters (as well as tons of other stuff), is selling new for only $120.  Certain out of print products might be more expensive on the secondary market, but often patience and diligence can allow someone to find a copy at a reasonably reasonable price. Then, too, one has to consider–if they purchase a counterset today from Broken Ground Designs, are they going to be buying it all over again when Product X comes back into print as an official module?
The variant counters, such as special or alternative color schemes for Poles, Free French, Romanians, and others might be another reason for some to purchase certain counter offerings here. Critical Hit has certainly tried this approach, offering various nationality counter sets in a variety of colors (such as red for Soviets, olive drab for U.S., etc.).  To date, Broken Ground has only taken limited advantage of this strategy.
Then, too, one must also take into account one's opponents.  Some ASLers refuse to play with third party counters (or, at least those that substitute for official counters, as opposed to counters not previously appearing in ASL), while others do so only with reluctance.  If you purchase a Free French counterset but no one wants to play a scenario using it, have you gotten your money's worth?
In general, the physical quality of these counters is good; ASLers don't really have to worry on that score.  The artwork and layout is sometimes good, but sometimes leaves a bit to be desired. However, even at its worst, it is not bad.  Some of the counters have had errata (and more will inevitably be discovered; it turns out that proofreading counters is really, really pesky), but that's true of even official counters. The sets definitely need better countersheet labeling and should contain full counter manifests as well as counter explanations (including information on any new or variant AFVs, SWs, etc., appearing in a set).
This is the sort of product that may obsess some, intrigue or amuse others, and cause yet more to pass by without even slowing. You'll just have to figure out which one you are.